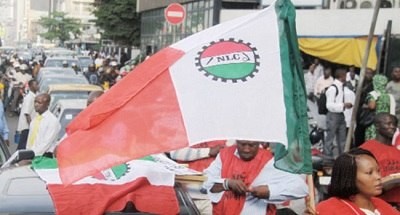 Olusola Bello
The Nigeria Congress (Labour NLC) on Wednesday suspended its five-day warning strike in Kaduna.
The NLC President, Ayuba Wabba, who disclosed this to journalists in Abuja, said the decision to suspend the strike was to honour the Federal Government's invitation to mediate in the dispute.
According to him, the meeting between the federal government and the organized labour will take place on today, Thursday in Abuja.
The NLC embarked on the strike last Monday to protest the sack of several local government workers by the Kaduna State government.
The strike has parallysed activities in critical sectors in the state.
Commercial activities in Kaduna State was completely  paralysed  for the three days following  the commencement  of strike action declared by Nigerian Labour Congress ( NLC)
Nigeria Union of Petroleum and Natural Gas Workers (NUPENG )  ordered its members not to supply petroleum products to the state. The Nigerian Electricity Employees Union (NUEE) also joined the strike, by cutting off electricity supply to the state, this compounded the already bad socio economic and security situation in the state.
Aviation workers under the aegis of National Union of Air Transport Employees (NUATE), Association of Nigeria Aviation Professionals (ANAP) and National Association of Aircraft Pilots and Engineers (NAAPE), directed their members to shut down operations at Kaduna airport with effect from early this morning in respect of a strike declared by the Nigeria Labour Congress (NLC) against the state government
Many business concerns and organizations could not   function properly with the withdrawer of services by these critical organisations.
Inspite of the fact that the state was completely brought to it knees, the state governor, Nasir  El Rufai  remained unmoved as he said the state would back down from its plans to reduce the workforce in the state.
The NLC had warned that if after the five days warning strike the governors still continues to be adamant over the matter the strike action would go nationwide. This may spell doom for the economy.
Meanwhile, Medical and Health Workers' Union of Nigeria (MHWUN), has issued a 48-hour ultimatum to the Kaduna State Governor, Nasir El-Rufai, to recall sacked nurses who are below level 14 and tender unreserved public apology to the Global President and Nigerian workers
MHWUN, in a statement by its President, Biobelemoye Joy Josiah, described the actions of the governor as "barbaric, primitive and anarchist" that is still being practised in modern day Nigeria
Josiah explained that the governor had earlier "illegally and forcefully" retired officers who are 50 years of age and above, officers on GL. 14 and above, converted officers on GL. 01 – 06 to casual labourers and dismissed nurses on GL. 14 and below.