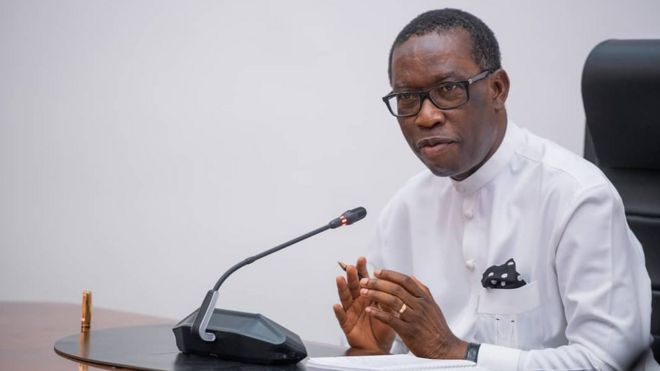 Senator Ifeanyi Okowa, Delta State Governor has commended the NNPC/Chevron Nigeria Limited Joint Venture (CNL) for the successes achieved under the Global Memorandum of Understanding (GMoU) between CNL and the Ijaw communities neighbouring its operations in Delta State.
The Governor, who was represented by Emmanuel Angbaduba,  Commissioner, Ministry of Oil and Gas,  said this during the 11th Annual General Meeting (AGM) of the Egbema and Gbaramatu Communities Developments Foundation (EGCDF) at the EGCDF Secretariat Warri.
The Governor praised CNL for consistently funding the EGCDF saying "Chevron, you have done very well. All the projects you have helped in doing, I thank you"   Okowa also applauded the EGCDF for its consistent peaceful leadership transition programme:"I have found out that EGCDF has been the most organized, most peaceful, most dedicated, most trustworthy and in terms of co-existence with your neighbours,  you've done it excellently well." "I want to appeal that we continue to live peacefully with our Itsekiri Brothers," he said. The Governor gave a commendation letter to the outgoing executives under Comrade Jude Ukori for their exemplary performance in community development.
In his own speech, Esimaje Brikinn, CNL's General Manager, Policy, Government and Public Affairs, commended EGCDF for continuing the tradition of peaceful transition and reiterated his company's commitment to the GMoU.
"The achievements of EGCDF, over the years, reinforce our belief that a process that is community-driven can stimulate quicker community development than processes and systems designed without effective participation of community members" he affirmed. Esimaje urged the communities to work together to checkmate the activities of oil thieves and vandals who are  responsible for most of the pollution in the  waters.
Esimaje, who was represented by Sam Daibo, Area Manager, Policy, Government and Public Affairs, explained that CNL supports global efforts to reduce flaring and carbon emissions. "In furtherance of this, we continue to invest in our operations to improve environmental performance while working with industry to develop new innovations and best practices."
He concluded by urging everyone to support the GMoU. In his word: "I implore you, our community leaders, women, youths and other stakeholders to keep an open mind and continue to support EGCDF Executives in the implementation of the GMoU so that our communities can reap more benefits"
Outgoing President, Comrade Jude Ukori, in his valedictory speech gave an account of his stewardship.
According to him, under his leadership, the EGCDF completed 18 out of 19 inherited projects and awarded 30 fresh projects out of which 26 have been completed. According to him, the EGCDF has completed and commissioned one hundred and sixty-five (165) projects since inception. Similarly, Jude asserted that the EGCDF has awarded three thousand, four hundred and seventy-one (3,471) scholarships since its inception. Out of these, thirty-nine of them were for PHDs, one hundred and sixty-five (165)were for master's degree while Tertiary and Secondary scholarships were one thousand, two hundred and ninety-one (1,291) and one thousand nine hundred and seventy-six (1,976) respectively.
Community leader,  M.O.E Tiemo, who represented  Johnbull Adaun, the Regent of Egbema,  appealed to Ijaw youths to be peaceful and law abiding for there to be more development in the communities."In the absence of peace, meaningful developments cannot be achieved. I urge all families in Egbema Kingdom to caution and prevail on their wards and children to be peaceful and law-abiding"
One of the high-points of the well-attended event was the inauguration of a new set of executives to take over from the Jude Ukori-led executives after four years of meritorious service. The new Chairman, Chief Joseph Wuruyai promised to progress the EGCDF by continuing to focus on the core value of accountability, transparency, integrity, and reliability and strengthening the relationship between CNL and the Egbema and Gbaramatu communities. "We are profoundly grateful to CNL for this great initiative and her rep here present as we are firm in our conviction that the foundation is working and it is evidenced in our communities".