…a country where nearly half of the population lack access to reliable electricity.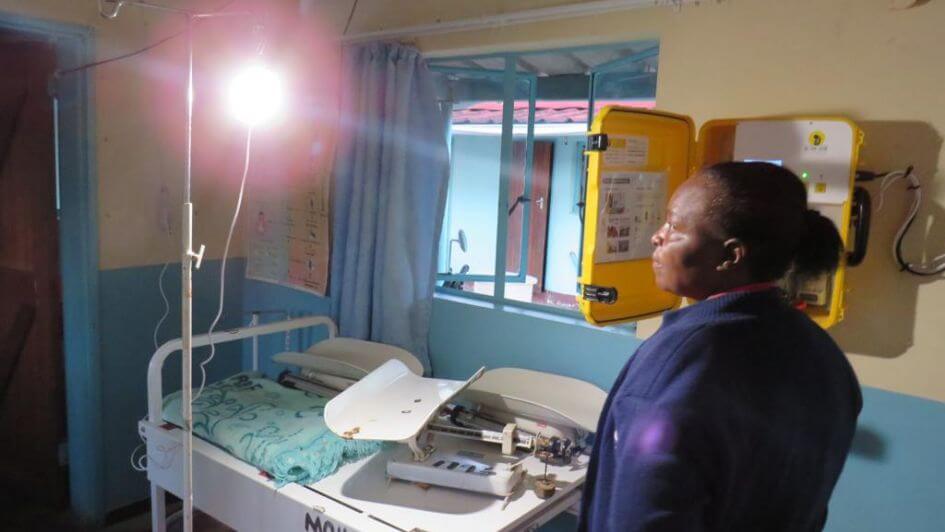 By Marcus George
One morning in early June a young man was carried in to the National Orthopaedic Hospital in Lagos with a gunshot wound to his right lower leg. The wound had become severely infected and the patient was unlikely to survive without emergency surgery.
There was another complication. His high fever and laboured breathing suggested signs of COVID-19 and he was immediately transferred to the hospital's isolation unit.
There he could recover from surgery without interruption from the power cuts that are a daily occurrence for many. Thanks to the installation of a solar-powered off-grid energy storage system, the unit has 24-hour electricity for lighting, as well as monitoring and resuscitation equipment.
The isolation unit at the National Orthopaedic Hospital in Lagos has beds for 20 patients. The solar panels generate sufficient energy to power lights, monitoring and resuscitation equipment
"If you have ever been to Nigeria you will know that power failure is a major problem all over the country. It is a fact of life here," says Dr Mustapha Alimi, the hospital's medical director. "But an uninterrupted power supply makes it possible for us to give uninterrupted health care and that ultimately saves more lives."
A World Health Organisation review found that in 11 sub-Saharan countries, only 28% of health facilities and 34% of hospitals had reliable access to electricity.
The hospital in Lagos was built during World War Two as a military rehabilitation centre to treat war veterans. Today, it is one of the main government hospitals in Lagos for trauma injuries and orthopaedic needs.
Power cuts regularly shroud much of the hospital in darkness. Lights go out, equipment trips and the black-out alarm system goes off. Staff then rush to manually switch on backup diesel generators to provide the electricity for critical care and other medical needs.
Generators are expensive to run and cause air pollution. And the sudden black-outs can damage expensive health-care equipment.
Aside from the solar-powered isolation unit, only the hospital's operating theatres are equipped with uninterruptible power supplies: a battery-operated system – charged up through the grid – to keep operating lamps, anaesthetic equipment and monitors working during power cuts.
After two weeks, the young man with the gunshot wound was discharged. His lower limb had to be amputated but he is making a good recovery.
"Having solar power in the isolation unit is remarkable. It is a fantastic gift," says Dr Alimi, an experienced spine surgeon who began working at the hospital in 1996. "It's my hope that we can have noiseless and smokeless equipment like this for other units, but funding is always a challenge."
Mustapha Alimi, medical director of the hospital, hopes to equip other hospital units with solar energy systems in the future
The solar installation is one of eight now operating in key medical facilities testing and treating COVID-19 patients in Rivers, Enugu, Kaduna, Oyo and Lagos states. It is the result of a $500,000 COVID-19 Solar Relief Fund launched by investment company All On in April. All On – founded and funded by Shell – worked with partner agencies and four energy businesses from its investment portfolio to create the fund.
Money from the fund also paid for 95 small-scale solar systems to be installed in clinics and emergency response units – enough to power telephones, laptops, monitors and similar items.
At the end of the first week of July, Nigeria had over 30,000 cases of COVID-19, with over 600 deaths, health authorities have confirmed.
All On's CEO, Wiebe Boer, was convinced from the start that solar power would be crucial in fighting COVID-19: "Initially the pandemic was regarded simply as a health crisis, but it was clear that the solar industry had a really important role to play in providing reliable electricity to improve COVID-19 testing and treatment."
Boer says the initiative has also excited and inspired others. "What's amazing is how the idea has caught on. The project has touched a nerve and powering health facilities is becoming a key part of improving health care across Africa."