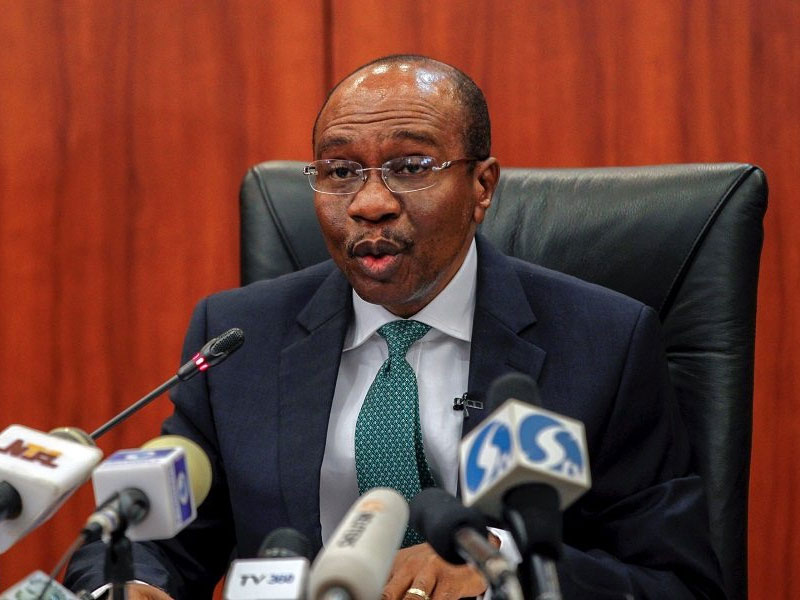 Olusola Bello
CBN Governor, Godwin Emefiele has said that the bank aim at providing five million homes with electricity using solar energy.
He stated that the bank is also positioned to ensure the integration of the country's farmers into the Government's Economic Sustainability Program,
The apex bank governor stated this while unveiling the first rice pyramids in the South West geopolitical zone in Ekiti State on Tuesday.
The CBN on it Twitter handle, faulted claims suggesting that the Bank's targeted interventions in the agricultural sector are tilted in favor of a certain section of the country.
He urges farmers to repay loans promptly to ensure sustenance of Anchor Borrowers' Programme (ABP).)
Emefiele who pushes for more private sector investment in Nigeria's agricultural value chain stated that the bank  believes significant improvements in domestic production of staple food items has been achieved,  and that it would help in attaining it price stability goals while reducing our dependence on imported food items"
According to him, CBN finances 3,107,890 farmers for the cultivation of 3,801,397 hectares across 21 commodities through 23 Participating Financial Institutions in the 36 States of the Federation and FCT.
About   3.8 million farmers have so far benefited from its Anchor Borrowers' Programme (ABP) with over N554.61 billion disbursed through the programme since its inception in 2015.
The programme  according to analysts has  done a lot to help to farmers by  improving  their yields and generate employment.
"The multiplier effect on the economy is huge.The ABP has helped farmers improve their yields. For maize, we now do five metric tonnes per hectare and for rice, we're improving from four metric tonnes to 10 metric tonnes per hectare."
CBN has however reaffirmed it support for youths who want to go into agriculture and have put in place several measures to improve access to credit under the Anchor Borrowers Programme and the Agri Business Small and Medium Enterprises Investment Scheme(AGSMEIS).
Nigerian youths, he said, have the talent, energy, enthusiasm, technological adoption capacity and drive to revolutionize agricultural production in Nigeria.
"CBN plans minimum 1 million hectares of rice through a combination of RIFAN farmers and prime/private anchors for each planting season in 2021".
:
He disclosed that  the revamped Nigeria Commodity Exchange (NCX) to commence operation by the 4th quarter of 2021.
The CBN Governor clarified that out of N700 billion earmarked for ABP, over N300bn has been disbursed in the southern part of the country, for the expansion of food production.
In his comments, Governor Kayode Fayemi of Ekiti said: "We want to increase rice production in Ekiti from 473,000 metric tonnes  annually  to 1.5 million metric tonnes . We are doing this in partnership with JMK, Dangote and Stallion Rice Mills, their plants are already in Ekiti.
Last week, the bank also unveiled maize pyramids in Katsina State where he, the governor said: "Maize Pyramids are indeed rare, but we have been able to achieve this through synergy amongst stakeholders and the resilience of our farmers. Success is indeed infectious, and this will surely spur us to do more".
Maize is one of the priority crops under the ABP. This is due to the crucial role maize plays, as a major staple food item, as well as its role as a significant feedstock for the poultry industry in Nigeria
Impact of our monetary policy measures will be limited, if we do not address some of the structural constraints that limit productivity in key sectors of our economy such as agriculture, he said.