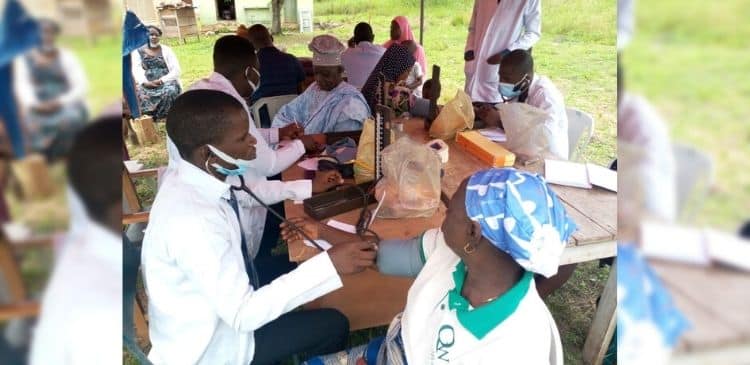 SIKIRAT SHEHU, Ilorin
Not less than 213 indigents of Ijara-Isin community, in Isin Local Government Area of Kwara State have benefitted from free surgical intervention and medical outreach, organized by the Nigeria Medical Association (NMA), Kwara Chapter.
Speaking at the event, Adedayo Aderibigbe, medical practitioner and Deputy Chairman of NMA, Kwara Chapter explained that the medical interventions to Kwara rural communities is an annual event where members of the association reach out to the indigent as part of their Corporate Social Responsibility to the masses.
"For the past 20 years, the association has been traversing across rural Kwara communities, to see how we can help indigent people with health challenges.
"We have been to various communities across Kwara-South and as time goes on, we hope to cover the whole communities across the state," he said.
He disclosed that 11 patients had General surgeries, while seven patients had cataract excision.
Aderibigbe noted that Ijara-Isin is an agrarian community with many aged citizens, adding that some of the common health challenges observed included hypertension, cataract, diabetes, malaria and hernia.
He mentioned some of the surgical procedures performed to include surgeries for cataracts and removal of lumps; herniorrhaphy among others.
The medical expert advised people to always make out time for medical evaluation, adding that early detection of ailment can save lives.
Drugs and surgical consumables were donated to the Health Centre at Ijara-Isin, for the use of residents in the community.
Also speaking, Yusuf Abbas (Dr), one of the Surgeon at the Outreach explained that some of the patients have been afflicted with ailments for the past 10 years and could not afford medical intervention.
Abbas admonished the government to partner with the association so as to reach as many communities as possible and assist them in their various health challenges.
In his remark, Nasiru Gbadeyan, father of a five-year old patient who received surgical intervention commended the doctors for their humanitarian gestures and for saving his son's life.
He explained that the son developed lump on the scrotum as a baby but he could not afford the medical expenses.
Some of the patients that require eye surgeries were given referrals to healthcare facility in Ilorin.